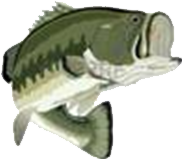 Youth Home Page
---
TBF Junior Anglers (8th grade & under)
One of the most productive fishing programs The Bass Federation has ever had is the Junior Angler Program.  The Junior Angler Program has significant changes designed to model the program after the highly successful High School Fishing program.
 Junior Anglers compete in events as a team in their own boat with their own boat captain.  Rules for tournament competition will be similar to rules for the High School Fishing tournaments as to tournament rules, boat and Boat Captain requirements.
Junior Anglers are 8th grade and under at the time they qualify to advance to the TBF Junior World Championship form any state.
Junior Angler dues for registration are $30.00 per year payable to California Bass Federation.  This includes your national TBF dues as well.
Junior Anglers compete to advance to the State Championship hosted by California Bass Federation.  State Champions advance to the TBF Junior World Championship.
Reel Kids
The Bass Federation and its member states have implemented a casting skills accuracy challenge for young anglers across the country!
"The Reel Kids Program" is in many cases the first opportunity that many kids have to be introduced to the great sport of fishing. At events like sport and outdoor shows across the country and in many schools these programs are giving kids the chance to experience what it is really like to handle a fishing rod and reel. They test their skills in the art of Casting, Flipping, and Pitching a plastic jig to a very colorful target.
This program is organized and operated at the state level only. By a vote of the Federation Presidents each state decides at what level they wish to advance the program. Many states advance kids from individual events to a State Championship while others choose only to run the event at the local level and put more emphasis on just getting as many kids as possible involved!
Regardless of what level each state chooses, this program consistently achieves its goal of exposing kids from 8 to 15 years of age to the great sport of fishing!!
If you're interested in bringing one of these events to your area please contact your state's Bass Federation President or Youth Director.
Student Angler Federation (SAF) – In School Fishing Program
This program utilizes a high action DVD with some outstanding underwater footage to get students excited about fishing. Educators like this program because it highlights how the basic elements of education, math, science and language arts, are used by anglers out on the water every day. We also show some of the ever increasing career opportunities being created through the sport of fishing.
The great thing about this portion of the program is that it is absolutely free to any school or youth group that wants to participate.
Our end result is that we want to encourage students to form a school fishing club so they can experience this sport first hand.
For more information, visit HighSchoolFishing.org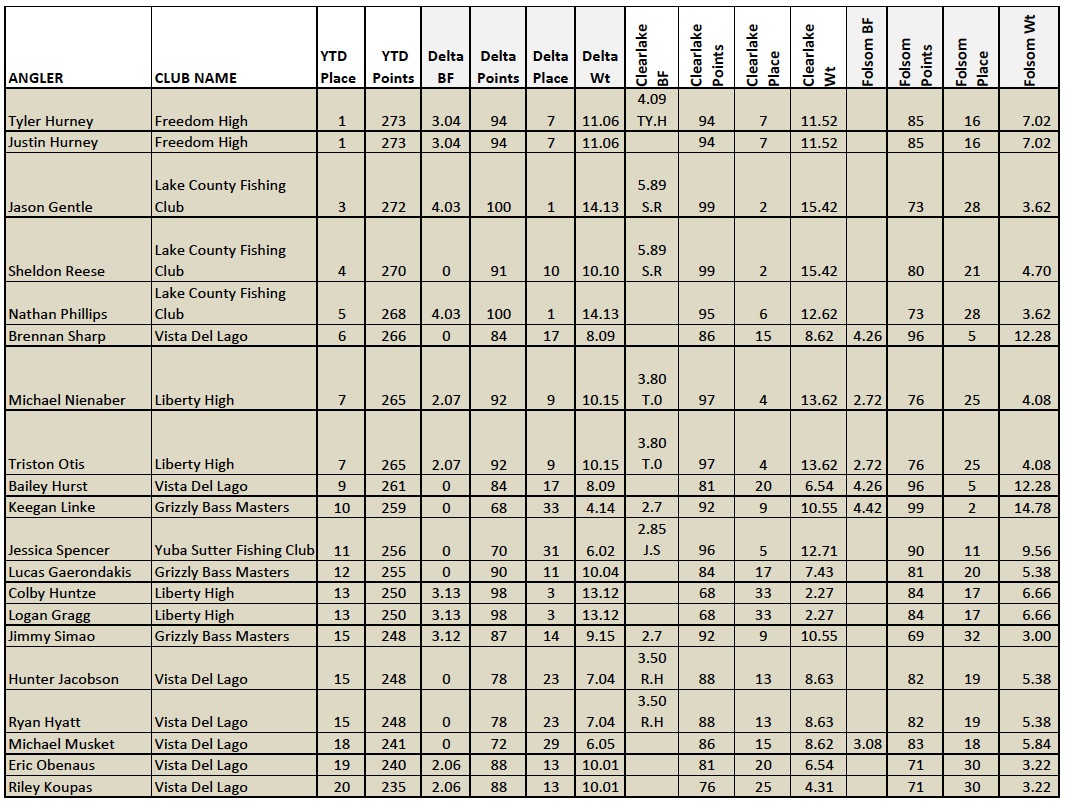 State Youth Director – Barry Sterud
Junior Championships
2023 Junior Angler State Championship tournament
iS TBA. This will be a team event with each team providing their own boat and boater. Each club must send me their entry teams at least two weeks early so that I can verify eligibility.
Anglers will not be allowed to compete if they have started the 9th grade. Each Angler must be a current, active, registered Junior Angler. There will be a $40 dollar/angler entry fee for this tournament. ($80/team) This money will be used to help offset the costs of the winning team to travel to the World Championships. Boat and boater requirements are the same as with High School Fishing tournament rules. Boaters, contestants, and contestants parents/legal guardians will be required to sign a release of liability form to register for the tournament.
The first place team in this tournament are the California Junior Angler State Champions and they advance to the Junior World Championship tournament. California Bass Federation will provide a travel stipend to the winning team if they travel to compete at the Junior World Championships. The advancing team will be responsible to provide a boat and boater for the World Championships. The boater for the World Championship must be from the State the team is from.
For a full copy of the TBF Junior World Championship rules CLICK HERE
Please direct questions to Barry Sterud, Youth Director, California Bass Federationat 925-584-6868.
Clubs
| | |
| --- | --- |
| Club | Contact Information |
| Delta Teen Team, OakleyYouth and Student Club | Barry Sterud 925-584-6868 |
| Roosevelt High School Bass Fishing Club Fresno Student Club | Michael Spencer 559-261-5296 |
| Dinuba High School Bass Fising, ClovisStudent Club | John Celum 559-797-5793 |
| Central Valley Bass Fishing Club, CeresStudent Club | Mike Reynolds 209-556-1900 |
| Vista Del Lago Fishing Club, FolsomStudent Club | Luke Johns 916-417-8611 |
| Nor-Cal Youth Bass Fishing Club, Red BluffStudent Club | Greg Morton 530-529-4284 |
| The 5th Day Fishing Club, FresnoYouth & Student Club | Vincent Valenzuela 917-623-0575 |
| Canyon Lake Jr. BassMasters, Canyon LakeYouth Club | Sal Gervasi 951-244-3294 |
| FishermansOutpost Junior Bass Club, San DiegoYouth | Jeanne Pasalich 858-395-3354 |
| East County Student Anglers, Brentwood, Student team | Malinda DeVincenzi, 925-451-5199 |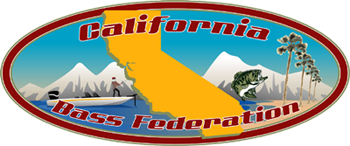 Travis Harris and Tanner Larocque win California Bass Federation Junior Angler Team State Championship
read more
The 2018 California Bass Federation Junior Angler State Championship will be held on Lake Skinner, Ca. on 27 May (the Sunday of Memorial Day Weekend).
read more
Travis Harris and Tanner Larocque win California Bass Federation Junior Angler Team State Championship